Weekend Parties
Our birthday party package includes:
Exclusive use of our party room for 1½ hours
Your choice from our extensive party range of ceramics  
Complete painting instruction and supervision
All paints, brushes, fun writers and stamps
Personalised dinner plate for the birthday child (valued at $22)
Each painter receives a lolly bag and a VIP* loyalty card
Cordial and water provided
Full use of our kitchen, fridge, freezer, microwave, cups, plates, bowls & platters
At the end of the birthday party, each piece will be glazed and fired and will be ready for collection in  5 – 6 days.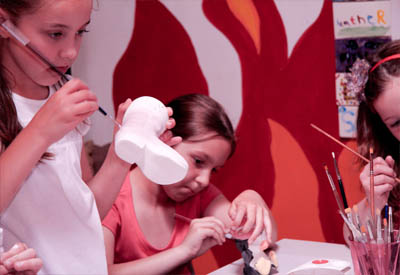 Party Times & Costs
Parties are for a minimum of 10 children.
Party room holds a maximum of 20 children.                               
Cost $22.00 per painter
Friday: 4pm or 4:15pm
Saturday: 10:30am  or  1pm  or  3:30 pm  
Sunday:  11am   or  1pm   or  3pm
More Information
Parties larger than 20 can be booked into the front studio upon request.
Two hour parties can be booked for children 11years+,  at an extra $2.00 per child (please enquire about times).
For parties outside of our normal hours, a minimum of 15 painters is required and a surcharge of $50 is payable.
Larger pottery from outside the party range may be selected. (We can offer you a discounted price.)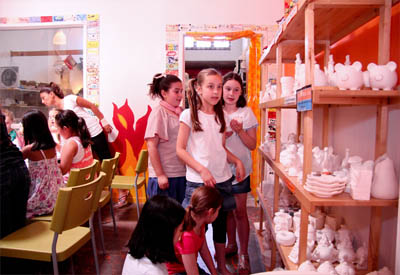 Party Food
Parents provide their own party food and serviettes.
We  provide jugs of cordial and water; cups, plates, platters, bowls, tongs, cake lifters and tomato sauce.
You'll have full use of our kitchen, microwave, fridge and freezer.
Don't want to bring your own? Order pizza from a local pizzeria or chicken meals from local take aways.