Walk In / Bookings / Studio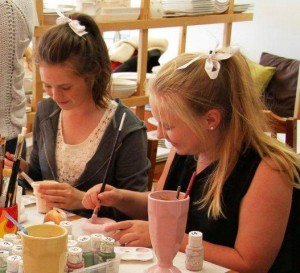 You are very welcome to drop in. We always try to find a spot for everyone who comes in to paint. At times the studio gets very busy, especially on weekends and school holidays. To avoid disapointment we recommend that you phone ahead and make a booking during these times.
We are OPEN 7 DAYS a week but closed on Public Holidays. Please contact or ask staff for our business hours.
It is also recommended to make a booking for larger groups of 8 painters or more.
Prices: An $8 studio fee per painter, per day, applies plus the price of the ceramic of your choice.
Smaller ceramics - $7 for a fish nemo/turtle.
Medium ceramics - $15.50 for a fairy, $18 for a mug or a money bank to $18 for a trinket box.
Larger ceramic items start at $20.
We have an extensive range of ceramics  from which to choose. There is something for everyone and we have ceramic pieces large enough to keep you busy for an entire day at All Fired Up.