Walk In / Bookings / Studio
You are very welcome to drop in! However the studio can get very busy on weekends and during school holidays. To avoid disappointment, we recommend making a quick phone call ahead of time. The studio is located on 568 Hampton Street, Hampton. We follow state school terms and are open 7 days a week during state school holidays.
Evenings are also available for group bookings, during term time.
In addition, we offer evening events for adults called 'Paint by Candlelight'. These run from 6:30-9:30pm on the 2nd last Thursday of each month - except December.
All Fired Up has a $6 STUDIO FEE per painter per day.  This fee is for the use of our studio and the cost of the paint, glaze and firing of your piece. Ceramics range from $4 -$12 for smaller pieces, $14 - $18 for medium items and larger pottery starts at $20.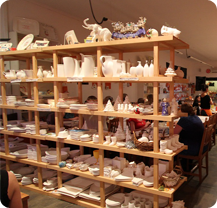 Opening Hours

Weekdays           10:30am    -      5:30pm
Saturday             10:30am    -      5:30pm
Sunday                11:00am    -      5:00pm
REMEMBER…….
CLOSED - Tuesdays during school terms
OPEN –  7 days in state school holidays
Other Ideas
Some Great Ideas
 We have a wide variety of ideas to suit most occasions.
 Browse through some of our ideas right here...
Baby Prints

Baby Hand Prints
As well as being a lovely way to remember how tiny your baby once was, this might be the best gift for new grandparents!
Bring your little one into our studio and we will help you create a plate or ceramic item of your choice using your baby's hand or footprint. Easy to do and a wonderful momento.